We can't help but be on guard by the erratic changes in the weather. The climate is gradually changing and becoming more and more complex. Faced with weather problems, it is essential to understand the signs and how to improve this worrying symptom in the present time. Join us to discover useful information below.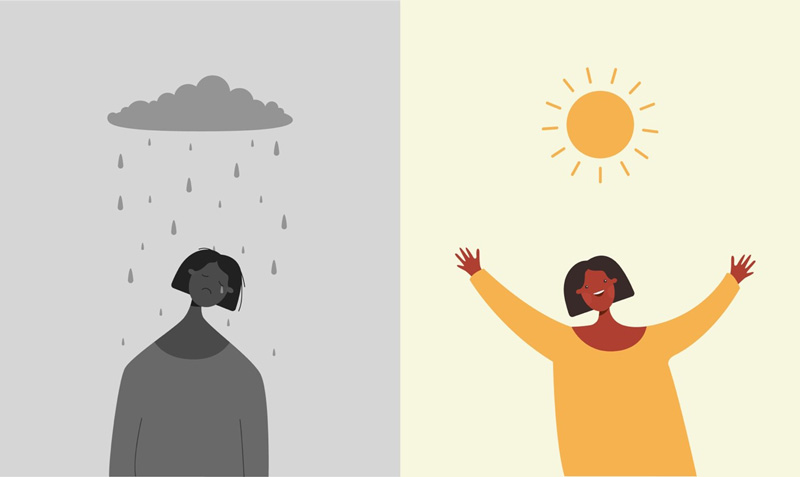 Causes of depression due to weather

 
Although seasonal depression is still not common in Vietnam, but with changing working trends, changing environment and quality of life accompanied by changes in climate change, we need to take precautions against this disease. seasonal depression earlier. 
According to TS.BS. Trinh Thi Bich Huyen said that seasonal depression is a type of depression related to the transition from late autumn to winter and begins and ends at the same time every year. Symptoms usually manifest in late autumn, last several months in the winter, draining energy and making us feel sad and moody.
Anyone can get seasonal depression. Among them, the proportion of women with the disease is higher than that of men. Some subjects have a higher risk of disease such as: People between the ages of 15 and 55 years old; People with relatives who have suffered from seasonal depression; People who live in areas with little time of light and with obvious and sudden changes in lighting levels between seasons of the year.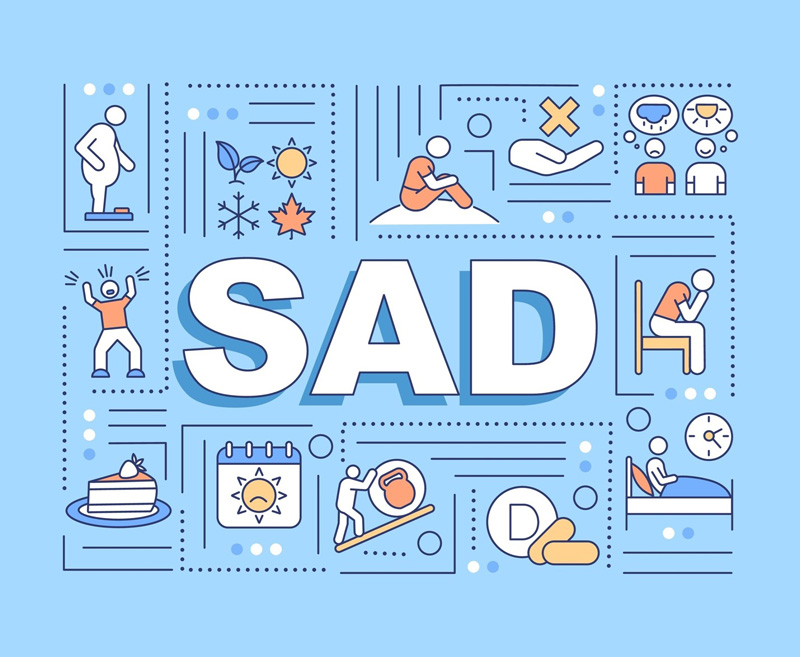 The cause of depression due to weather is currently unknown, but we all assume that the cause of depression is due to mental pressures, psychological trauma, severe stress, emotional problems without knowing that Sometimes the weather also directly affects the mood. This makes it clear that you are more likely to feel sad on a rainy day and happier on a clear day. 
On the other hand, the cause of seasonal depression has also been studied by experts, and it is believed that weather-related depression comes from a lack of sunlight. Accordingly, these theories also explain that this factor is related to biological hormones in the brain. Less sunlight also lowers serotonin levels, which help the brain calm, focus and relax; while increasing melatonin – a neurotransmitter that causes drowsiness. When it is cold, you want to hide in the room to avoid facing the bone-chilling cold, while when the temperature is too high from summer, it also makes the sick person feel uncomfortable, easily angered and resentful. 
Signs to recognize when you are depressed due to the weather

 
It's easy to confuse it because seasonal depression also has flu-like symptoms. However, it is important to watch for symptoms to know if you are suffering from seasonal depression. Here are some signs to help you know you are suffering from seasonal depression: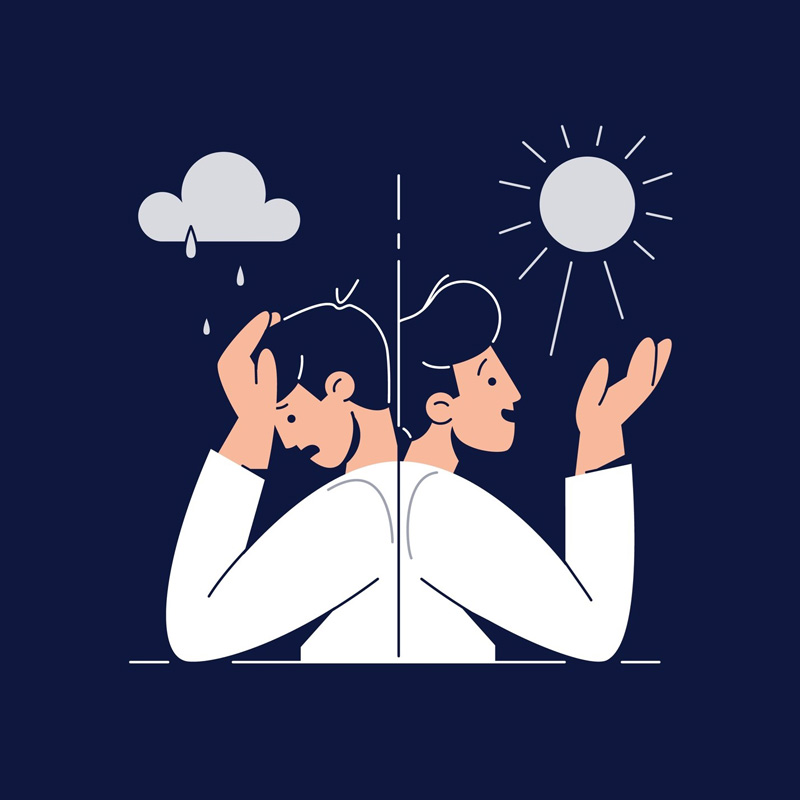 Feeling sluggish, lacking energy, not wanting to do anything, having trouble waking up in the morning

Cravings for more than usual, especially for foods high in carbohydrates such as instant noodles, bananas or sweet dishes

Tendency to gain weight

Don't want to leave the house, don't want to talk to anyone

Spend most of the time sleeping, always in a sleepy state

Feeling anxious, easily startled, panic

Feeling sad for a long time, crying easily and always in a state of wanting to cry

No interest in social activities even though they used to like it

Loss of concentration and memory, reduced ability to process information

Working slowly, inefficiently, feeling like limbs have no strength

Become more sensitive, especially when rejected

Tired, moody, always feeling uncomfortable

Irritability, anger

Insomnia, difficulty falling asleep, tossing and turning, and waking up in the middle of the night

Anorexia, not eating well, often just want to drink water

Tend to lose weight

Feelings of restlessness, loss of interest and energy

Limit going out of the house for fear of heat, just want to stay in a cool place

Increase sex drive
Note that: Not all of the above symptoms are experienced, just if you have a few, you may be experiencing seasonal depression.
Treatment

 
As with other types of depression, there are ways to prevent and treat this "trending" illness. You can choose medical treatment, psychological treatment or non-drug treatment. Here are some tips and suggestions to help you overcome seasonal depression.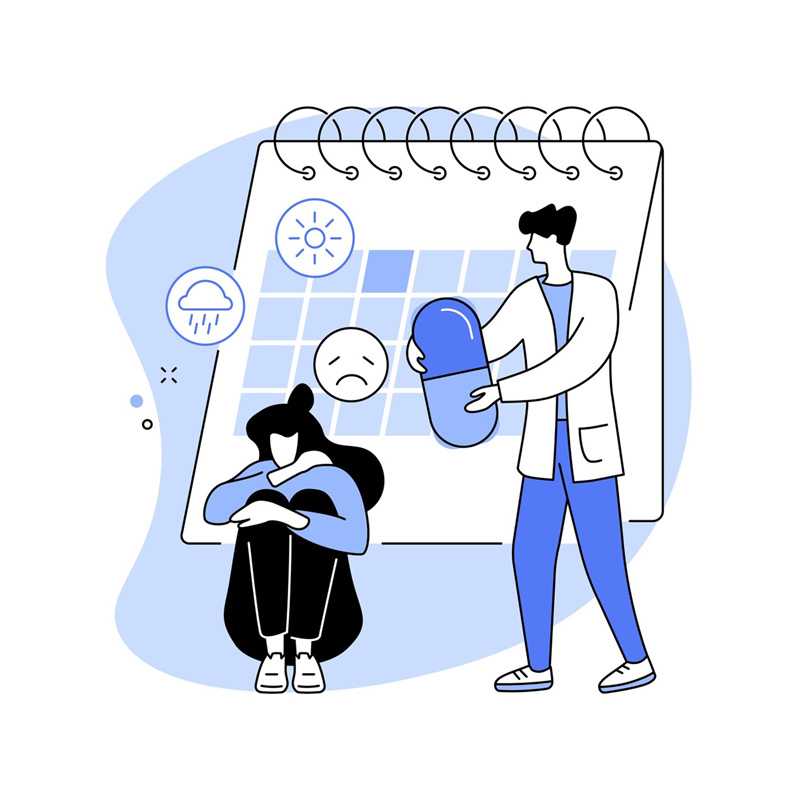 If you have a history of seasonal depression, your doctor may encourage you to take it before the change of season to prevent a relapse. In addition, in Western countries, when this disease is common, doctors use light therapy to treat seasonal depression. 
Besides light therapy, psychotherapy is also targeted for patients with seasonal depression. Accordingly, therapists will use language and behavior to influence deeply in the mind, thereby gradually changing the patient's perception and towards better values. The patient himself will understand that he has unreasonable worries, know how to release emotions, add positive energy, and improve the spirit of each person. In addition to the above solutions, patients also need to take care of themselves at home to improve their spirits without using any other drugs. Care measures for patients with seasonal depression will be directed by the physician to ensure the best outcome. 
Expert advice

 
Although, seasonal depression is not really common in Vietnam, but the number of depression in general will also be a corollary and a precursor to seasonal depression. 
Understanding and preventing seasonal depression helps us cope better when it happens. The main thing is to always build a life with a healthy, reasonable diet and build a balanced life so that you can always self-regulate before events occur. 
In case you are suffering from or are at risk of seasonal depression, the top priority is to seek treatment and perseverance, and at the same time keep yourself a positive optimism to help prevent depression. Avoid seasonal depression caused by the weather.