---
A messy desk not only affects the quality of work, but also worsens the mood. Let's rearrange  the desk in the way of "house-cleaning witch" Marie Kondo to improve my concentration and work efficiency!
Consequences of clutter
If you're wondering who Marie Kondo is, nicknamed "the house cleaning witch", here's the information for you.
Marie Kondo is a female author who specializes in writing books on how to arrange furniture neatly and scientifically. Her books have been translated into many languages ​​and sold millions of copies worldwide. Marie Kondo is also a consultant to arrange furniture according to the simple Japanese lifestyle and is called by many people as a "house-cleaning witch".
Now take a minute to look at your desk… Papers piled up, glasses of water, cups of coffee, crusts of breakfast bread, pens, paper clips, folders. A messy desk, in addition to "hiding" the items you need, can also cause you to face unnecessary stress. Imagine the file that needed to be signed and approved urgently had "disappeared" while only 5 minutes left before the boss had to go on a business trip.
So to improve work efficiency and prevent unnecessary crises, make sure you keep your workspace clean. And of course, clean up, not stuff everything in the closet. We'll clean up your workspace, including your countertops and cabinets. Based on the cleaning principle in the book "The Japanese Art of Decorating" from the house cleaning witch Marie Kondo, our cleaning will start with:
Step 1: Sort – Does the item make you happy?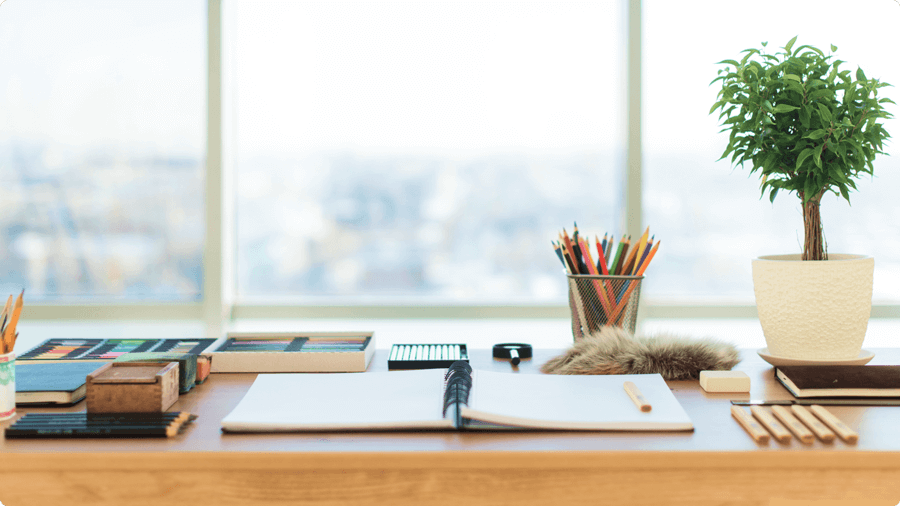 There is no reason for us to hold on to items that do not bring mental happiness. Therefore, quickly flip through your desk and filter out the items that don't bring you joy every day.
Oh wait, note that there are some objects that may not bring you happiness directly, but are very important (Yes, like a work laptop or a stack of important files in front of you). Therefore, make sure you keep the items you really need for your work.
After keeping the items you really need, go back to the rest of the items. Hold each item in your hand and ask yourself, does that item really make you happy at work? If the answer is yes, set them aside for the next step. For the rest of the items, thank them for supporting you all this time before putting them in the trash or taking them to recycle.
Step 2: Organize – Find a home for every item
After step 1, we are left with only the items that are really necessary for the job and bring you joy. Now let's "find a home" for each item!
Keep items you use every day (eg laptop mouse, notepad, pens…) right on your desk so they can be easily accessed when needed. With other rarely used items (such as file covers, paper clips, replacement staples, etc.), you can arrange them neatly in the drawers in the order of priority of work so that you can easily find them when you need them. .
After you have neatly arranged, take the time to clearly remember the "home" location of each item. It will be very helpful for the third step.
Step 3: Maintain – And you won't need to clean up again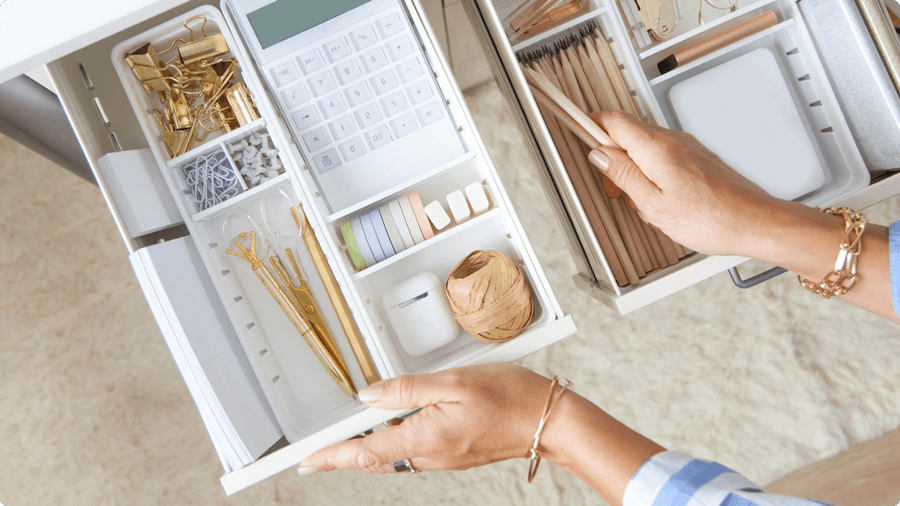 Gradually get into the habit of "returning things right home" right after use. With this habit, you will maintain the neatness of the working corner and will not have to add any more time and effort to clean the table.
In addition, Marie Kondo also recommends that you have a few "highlights" to bring brightness to your workspace such as: small potted plants, children's picture frames or cute desktop backgrounds. However, you remember to limit the amount of these decorations, avoid "pressing" too much which is counterproductive!
Act now!
Too much information? You just need to remember the following 7 bullet points by Marie Kondo to have a neat desk:
Sort your belongings into two groups: (1) things that are important and make you happy; group (2) items that have not been used for a long time.

Important items for work and everyday items, keep them neatly on the table

For items you only need once in a while, find a place for them in your closet

Pick up the rest of the items and ask yourself: Do they make you happy? Let's classify into 2 groups "Yes" and "No".

If the answer is yes, repeat steps 2 and 3

If the answer is no, thank the item before throwing it away or recycling it
Every time you finish using an item, let it go back to your "home".
We wish you the best of luck with your new neat workspace.